Rock Raiders without music has long been an issue, but following this small guide will restore the music back into the game and you won't even need the CD.
How Does it Work?
LEGO Rock Raiders uses Media Control Interface (MCI) calls to play tracks from the CD-ROM. This is done through the Windows Multimedia API (winmm) which comes standard with all Windows installations. Since we want to play music without the disc we essentially need to re-route those calls from LRR to our own version of "winmm" which plays OGG files from the Music folder.
This fix is based on Toni Spets' OGG winmm wrapper which I have modified to suite LRR.
Applying the Fix
To begin, download the Music Fix which contains all the necessary files you'll need for this guide. The download also includes the 3 songs from the PC game in case your copy was one of those missing the audio track on your CD-ROM.
Inside the ZIP file you downloaded, there will be 4 DLL files and a 'Music' folder containing 3 songs. Extract all these files and folders into your Rock Raiders installation directory (alongside LegoRR.exe). Your LRR should look something like this afterward.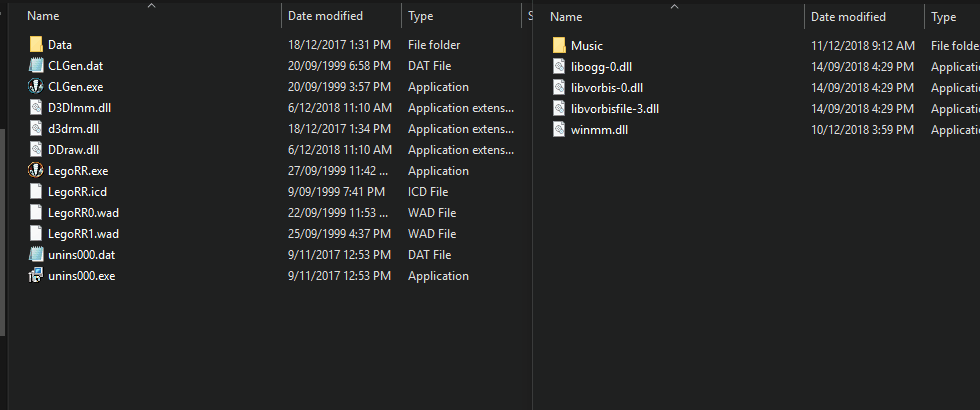 If you run the game you should hear music after dismissing the "Mission Brief" on all levels. However, there is still one more step to go. You may notice that the first song "Track01" will not play, but tracks 2 & 3 will. This is not a bug, this is deliberate as track 1 on the CD-ROM contains data, not music. The game will always start music from the second track.
Now, there are two solutions to this issue, you can pick which you would prefer.
Re-Order Tracks - We can offset all the tracks by 1 (e.g Track01 becomes Track02, Track02 becomes Track03 etc..)
Config Update - Change the game configuration to make it start from Track01.

 
Solution 1 ( Re-Order Tracks )
This one is pretty simple, all you'll be doing is renaming some files. You should increase the track number on each file by 1 (Track03 will become Track04).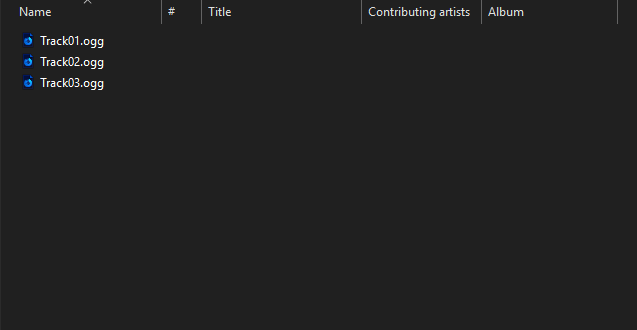 Solution 2 ( Config Update )
If you haven't yet extracted the WAD files or learned how to do some basic modifications to the Lego.cfg configuration file, this is covered in another guide, go read that now.
First, open up your Lego.cfg file then locate the property "CDStartTrack" found in the "Main" properties block. You will notice that by default it's set to 2, so we'll change this to 1.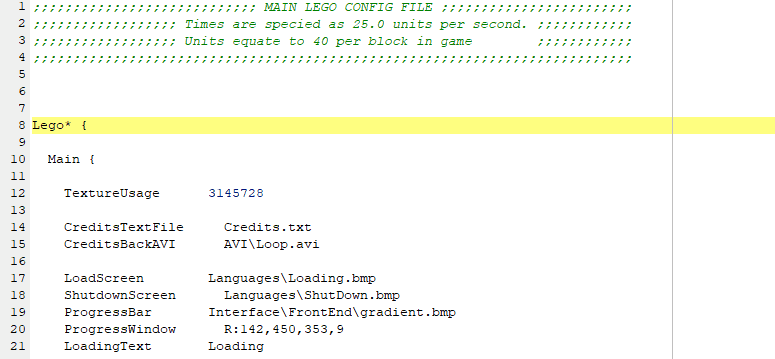 Save the file and be sure to re-build the WAD files if you've elected to use the WAD method of modding over the DATA method. Start the game, select a level and the game music will start after dismissing the Briefing Panel. You're all done, go add your own tracks if you will

Enjoy this Guide? Want More?
Then support this content creator, show your appreciation by giving this guide a "Like" below. You can even Buy Cyrem a Coffee!.
Edited by Cyrem
Written By Cyrem
Published