1:1 L.M.S. Explorer (revised version)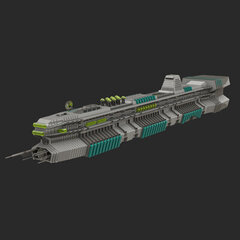 Finally I managed to fix the problems, that I have found in my older version of the ship.
Due to having a faster computer it was way easier and much faster to work with LeoCAD (loading the file takes ~ 5 seconds), though I recommend saving all the time since the program can crash (I have two saves in case, that the program crashes during saving. That way I always have another save).
I fixed quite a lot on that ship:
-added teleporter/radar dishes at the bottom
-added elevator shaft to the back of the bridge
-changed the outside of the bridge a bit
-modified the front to make it look more like in the videos and the magazine (thanks for uploading that picture, Ringtail
)
(it means, that it is more narrow now and that I changed many elements on it)
-changing the width of the whole ship a bit (reduced by 4 studs) due to the changed front
-the upper layer is a bit  wider due to the changed front
-flat side walls (+adding black lines)
-changed the antenna on top of the front
-changed the dark grey structure next to the antenna on top of the front
-changed the colours of the sidewall windows (although I probably have to change them again)
-changed those dark grey openings/windows on top of the teal stripes etc. (they are one instead of two types now and they contain transparent elements now
-changed the dark grey pit in front of the bridge
-added Power Miners
-changed the structure with the eleven domes, that you can see behind that top antenna
-changed the area between the bridge and the dribes
-changed many grey areas to dark grey ones after checking the sources again
-removed useless bricks inside the ship
-stuff, that I have forgotten to mention
There is still room for improvements on that ship, but I like it more than the older version. The next thing will probably be a poster with pictures of the ship from different angles. I think, that I will also upload the ldr-file (can be used for LeoCAD and LDView. Mabye other programs, too).
P.S.: The extended intro of Rock Raiders was also helpful for improving stuff like the front.
---
From the album:
98 images
0 comments
5 image comments
---
Photo Information for 1:1 L.M.S. Explorer (revised version)