The Faces of Duplo
Entry posted by Yajmo ·
454 views
I was looking at some of the old Duplo sets and thought some of the faces on the Duplo-figures were a little bit unsettling.
Theres this one:
which bares a striking resemblence to this face which i've seen spammed places(uh oh am i partaking in the spam?):
And then there's this duplofigure: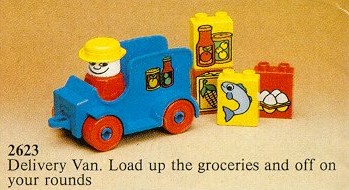 The smiles on these are so... i don't know, its probably just me. Some reason to me they both look like they would kill me in my sleep or something and all the while keep the smug look.
Also look at this duplo baby rattle:
It looks like that web-comic parody of Donald Duck called Dolan:
If you haven't seen Dolan before , I dont recomend searching it up because it will probably ruin your childhood in some way... Just don't, its nasty.
---