Full Disclosure: I am a massive fan of the Souls series and have played each one to completion multiple times. This may bias and skew my views and wording in this review, but I will go over things that some people may not like as well.
Bloodborne: The RRU Review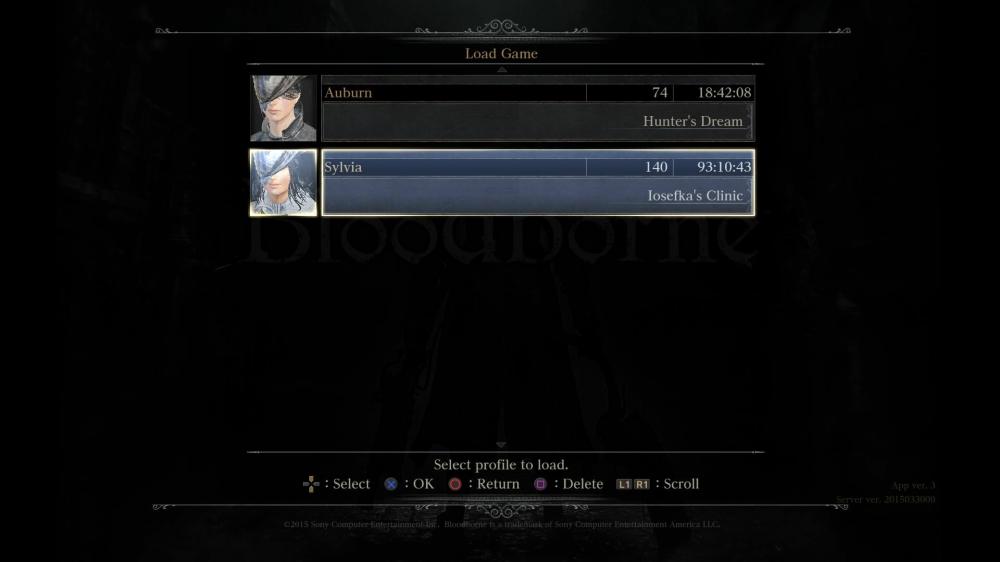 And here we are, almost two months after the game had come out, and I'm only just starting to review it? Lexi, why is that? Because I wanted to have an air of professionalism in this review, I wanted to actually FINISH the game to the extent it has to offer before tackling what seems like an impossible task of reviewing it fairly and honestly. Because of the recent kerfluffle between games journalism and consumers of said media, I have decided to not give any of my reviews going forward a numerical score at the end, simply stating if I enjoyed the game or if I believe you should play it at some point. Let's begin, shall we?
The Graphics/Presentation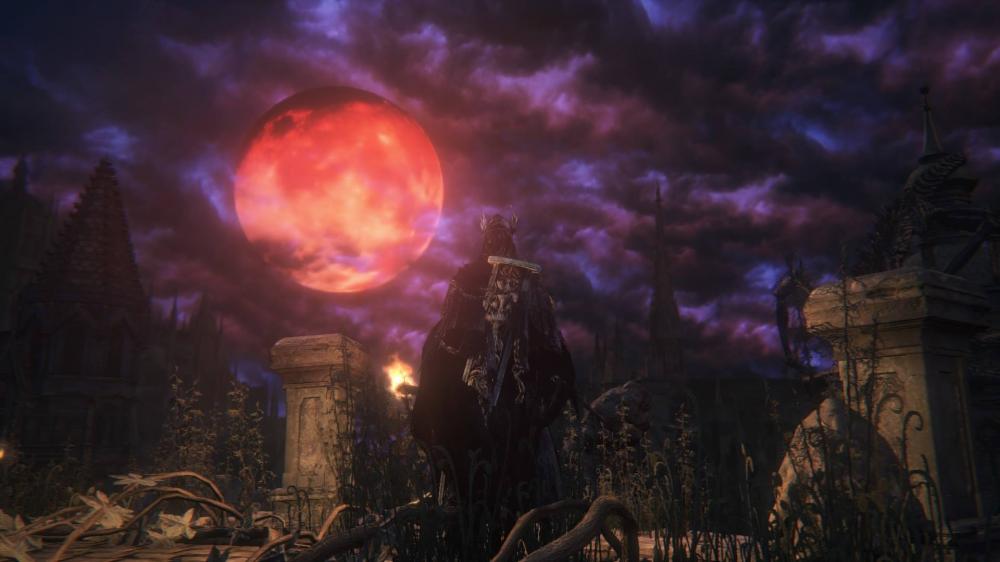 We start with what seems to be the most unimportant part of most games, the graphics and presentation of the title. From the sample image up top, one would notice that the game doesn't exactly have the brightest color palette. It's a large variety of greys and browns, set against the background of a cold Victorian setting. Normally, I'm the first person to complain when a game isn't colorful enough but I really do believe that the 'lack' of color present in Bloodborne is one of it's greatest strengths - to a point. Exploring the same dull Victorian environments does get a little bit dull after a while, and the largely repetitive backdrops don't do much to help easy that dullness.
However, right when you start to get extremely bored by the same gothic buildings, the game starts to throw curveballs at you. There's a short section near the start where you're exploring a small woods with a Witch's abode right at the end, complete with peasant village and ever-autumn graveyard against the backdrop of falling leaves. A section shortly after this takes place primarily in a forest; a dark and sickly place crawling with werewolves and Lovecraftian horrors. All of this seems to tie together the world of Yharnam (and Yahar'ghul) into a cohesive package, thematically and tonally similar throughout the experience. It wouldn't be an exaggeration to say that the world of Yharnam might be one of the most thickly detailed gameworlds of all time. Coffins and enemies dot the streets, statues and plague-stricken NPCs seem to block progress and create new openings. There are very few parts, if any, that aren't intricately detailed in some fashion or another, and it shows how dedicated the Fromsoft A-Team are towards believable world cohesion. The entire world seems to connect in a fantastic and intuitive way, beyond transporting between Reality and The Hunter's Dream.
But graphics are only a small part of the overall game experience. What of the Gameplay and Story, how well are they done? Well, to start out with; those familiar with the Souls style of combat won't be disappointed here, and will feel right at home when they first pick up their controller to fight the beasts of Yharnam. The controls will feel immediately familiar -if a bit changed. from the previous titles. R1 and R2 remain your main attacking buttons, but the left side of the controller has been changed big-time. As there are no shields in the world of Bloodborne, L1 will instead activate your weapon's "Trick Mode", which can have a variety of effects. For one of the earliest weapons in the game, for instance, it could turn a cane into a serrated whip that gains bonus damage against those infected with the Beast Plague that infest Yharnam's every corner. L2 has turned from a parry button into the dedicated button to use your firearm. Firearms, in a Souls game? Are they overpowered? Surprisingly, they're not. In Bloodborne, your firearms are mainly used for defense, rather than offense. Every shot has the capacity to stun an enemy, but very rarely do they ever actually do enough damage to be considered a viable means of offense. Indeed, their main use is to "parry" enemies into a state where you can walk up to them and press R1, executing a brutal Visceral attack and doing a large chunk of damage to them. Other than the addition of Guns, the other biggest change from classic Souls gameplay is the pace of the combat. It's brutally fast-paced, requiring pitch-perfect timings on every dodge and every attack. Bosses are relentless and barely ever give you time to recover from their onslaught of attacks, leading the player to go on the offensive almost all the time. This seems to be exacerbated by a system called "Rally", wherein if you're hit by an enemy, you can attack them to regain a small amount of lost health; attacking them fast enough could even result in you gaining the entirety of the damage dealt to you back. You can never gain health with this mechanic that you had lost prior to that specific damage, however.

The story, as with almost every game directed by Hidetaka Miyazaki by this point is dark, depressing, and vague. The hallmarks of a From Software story are all here, and it's up to the player to discover how deep into the lore and history of the universe that they want to dig. From the very outset of the story, we know very little. Just an old man with bandages over his eyes telling us how we need a "blood ministration" and how we need to "sign a contract" in order to obtain it. After creating our character, we're thrust into the world with no prior information, just watching a werewolf burn in a puddle of oil for some reason; symbolically showing us that our own beast-plague was burned away by the Blood Ministration. After we awake, we find ourselves in a clinic, with a note nearby that simply reads "Seek Paleblood, transcend the hunt" Nothing in the game ever explains to us what Paleblood is outright, and that's endemic to the entire series. Miyazaki will never outright tell you important parts of the story, and instead allow the gameplay and item descriptions to speak for themselves, forming the story in a more organic and voluntary way than most AAA Games full of cutscenes and unskippable dialogue do. This is both one of the game's greatest strengths, and greatest weaknesses; the average player is going to have very little idea of the story during their first few playthroughs, and will have to resort to online lore explanation videos to gain the most out of their game.
Overall, and my final thoughts on the game.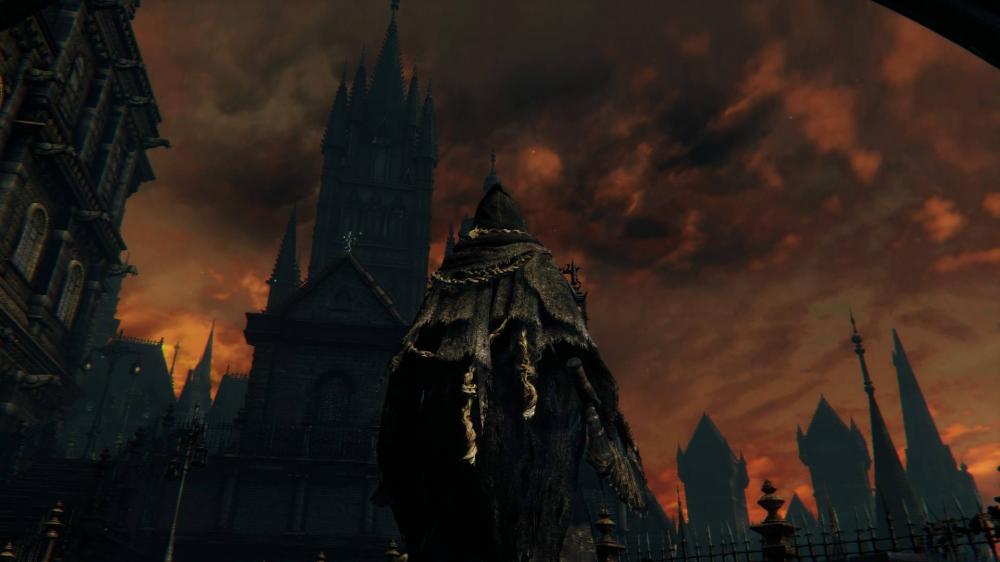 Bloodborne is easily one of the most hyped games of 2015, and it shows. It had one of the largest launches of a From Software game to this day, despite only having been released on the Playstation 4. Despite a few minor technical shortcomings (Framerate, Loading Times, Frame Timing), it stands as a fantastic testament to the power of the next-gen consoles, in relation to the dated hardware of the last-gen machines from both Sony and Microsoft.

Pros
-Fantastic Fromsoft Gameplay evolved just enough to feel fresh again.
-Story told purely through exploration and gameplay, almost no cutscenes to speak of outside of the beginning and ending.
-Gorgeous Gothic-Victorian world.
-Same Risk/Reward fair difficulty of the Souls series.
Cons
-Awful load times pre-patch.
-Playstation 4 exclusive.
-30fps, no possibility of increasing. Often falls below.
-Vague story with little to keep those who prefer cutscenes interested.
-Difficult, but not overly so. May not sit well with some people.

Overall, I think this is an excellent addition to the Playstation 4's library, and is definitely worthy of a purchase if you have the system and the money to spare.